The 2012 Kona N. A. Championships
were
hosted
by Kona Midwest and local windsurfing org,
Fleet 8
, which was started 40 years ago in 1972. This event was financially supported by many non windsurfing
sponsors
. The championship was raced on Lake Waconia, August 23 - 26, in the western suburbs of Minneapolis, Minnesota. 53 racers registered for the competition. Joachim Larsson, who lives in Sweden and is owner of the
Kona One raceboard brand
, took the top honors in the 10 race regatta. "Racing Kona is tight since the board speed doesn't vary much with the sailor skill, so the tactical decisions make more difference than in other classes. This made for interesting racing, especially in the last two races where we had the entire fleet of 50+ on the course" explained Arden Anderson.
This was how they overcame and had a
successful
championship: "Credit over a dozen sponsors including the title sponsor, Lola's Lakehouse who hosted a fantastic Welcome Party on Thursday. The only thing missing on Thursday was the container of 33 charter boards that had been held up for over a week on the U.S. border in North Dakota only because it shared a rail car with another container that was not customs legal...Switch to Plan B. After cleaning up from severe weather from Thursday evening, registration was completed and competitors were assigned their designated sail rigs. Between Fleet 8 and Kona Midwest, we had 15 boards. Fortunately, there were another 11 boards from competitors who brought their own and were willing to share. That allowed for splitting everyone into four groups with equal number of sail/weight groups in each. The plan was to have each pair of groups do two races, then repeat with a different combination of groups. With the later start, four races were completed on Friday with everyone getting to race twice..."
Regatta Results
The
Twin Cities Pioneer Press
offered a sobering
view
of our sport: "Before snowboarding and stand-up paddle boards and obstacle course racing, there was windsurfing, the hot new sport that captured the Twin Cities way back when we had a president named Reagan. Now windsurfer sightings on local lakes are about as common as seeing someone on a pair of inline skates. (Remember those?) But this weekend, a band of die-hard sailboarders from the U.S. and Canada have gathered in the Twin Cities for a championship sailing regatta that they hope will help begin to restore the fortunes of a sport that has faded from public view...The article goes on to explain that the Kona Class is hoping to help revitalize interest in windsurfing via the
easy to use and learn
appeal of a longboard.
The
StarTribune
interviewed
the event organizer: "To Michael Fox the 1980s weren't defined by hair bands or President Reagan. Fox, who lives on Lake Minnetonka, remembers the decade as the golden age of windsurfing, with the Twin Cities home to one of the most vibrant windsurfing scenes around. 'In the '80s, windsurfing just exploded here' he said. Now Fox is determined to help the sport regain its edge"...The
Sun Patriot
added more
coverage
of the event by getting a perspective on the sport, racing and the Kona longboard from Rob Evan, a local 36 year windsurfing veteran.
The 2012 Techno 293 World Championship
ran from August 11 - 18 in Medemblik, Netherlands. This was the largest
gathering
of young racers this year. For the last couple of years, Patrik Pollak has documented these gatherings with a multitude of brilliant
video reports
. He summed up this year: "Future ? This is the future. Why? Because it is fair racing and fun. Numbers prove it! Present stars of Techno are future stars of windsurfing. Some of them won their first world title here in Medemblik...339 kids, 29 countries, 6 continents, 5 days, 4 new junior world titles, 3 courses, 2 Olympic champions, 1 board..." From the last day of this year's championship:
The 2012 Formula Worlds
were held at Liepaja, Latvia from August 20 - 26. Only one American, Micah Buzianis, made the long trek to the eastern shore of the Baltic Sea. PWA British Pro Ross Williams won the
event
. Przemyslaw Miarcynski, who won an Olympic Bronze Medal in the RS:X Class, also finished 3rd over all at the Worlds. The big winner was the
event
itself which attracted a robust crowd of 119 competitors.
Congratulations to the Formula Class for the new and improved relaunch of the website
Follow The Winds
which chronicles all things Formula. Here's a taste of the recent Worlds from Latvia: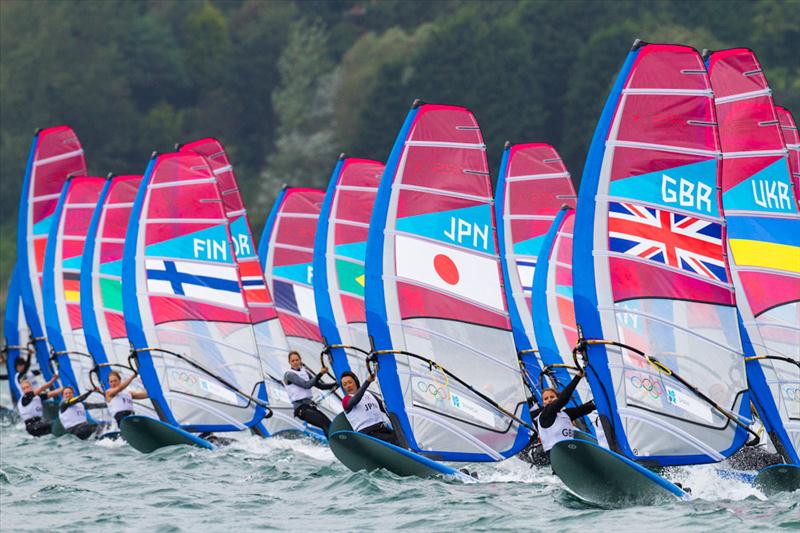 The RS:X Class,
after a very successful Olympics, awaits their request from a London Court for judicial review of the ISAF
decision
. Of course, the big event is set for the Annual Meeting in November and the hope is for chance to have the ISAF reconsider its exile of the RS:X from the Olympic stage. David Legatt of the
NZ Herald
has written often about the ongoing kerfuffle. He recently
wrote
: "...the general feeling among those favouring a reversal is that it will be tough to pull off. A first vote requires 75 per cent support for the original decision to be revisited. A rough estimate has about eight votes having to change. The difficulty for the pro-windsurfing lobby is that countries such as Spain, United States and Australia see kiteboarding as their best bet for future success..." Legatt added: "The Rio Olympic organisers have plumped for a site near the Brazilian city's airport noted for having barely any breeze. What it does have over the other option - a couple of hours away and noted for more substantial winds - is proximity to the Olympic headquarters."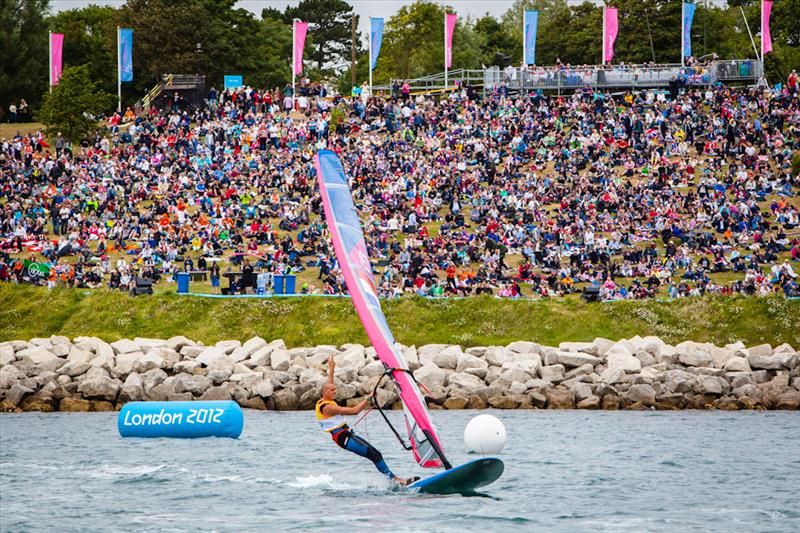 Have you followed this story and wondered where Kite Racing will get an Olympic calibre field of competitors the size of the RS:X Class? Ironically, some prominent names in the RS:X Class have said, that if windsurfing is gone from the Olympics, then they will compete in the new kiting discipline. Adding to the irony, kiting will introduce Olympic sailing to a new paradigm; one that is not constrained by the conventional
one design concept.
Kite Racing, which will not be a one design class, could provide a path for the Formula Class to enter the Olympics in 2020. Back in 2005, when the RS:X was chosen for the Olympics, Formula was ruled out because it was not a one design class.
Congratulations to Bob Willis and Happy Trails
. His heartfelt Olympic
good bye
: "For the past 2 months or so, I have been getting a lot of questions about whether I will continue to compete in windsurfing (if it comes back), kiteboarding or any other Olympic sailing class. As of right now I can confidently say that I do not plan on pursuing an Olympic gold in 2016. I love competing, I love the training and this has been an incredible journey, but there are other avenues in life that I am eager to explore.
Thank You
I may have been the only American competing in the men's RSX class for the Olympic Games; however, it took an immense army of supporters for me to get to the games. Even though I compete in an individual sport, there has been a huge team supporting me every step of the way. I know I can't say this enough, but I would like to extend a very special Olympic "thank you" to everybody who has helped me along this journey. I am so fortunate to have had such strong support and I truly enjoyed sharing these moments with all of you. Finally a most sincere thank you to my parents, who put up with my crazy dreams for way to long and my coach, Peter Wells, who continued to inspire and train me to fulfill my crazy dreams!"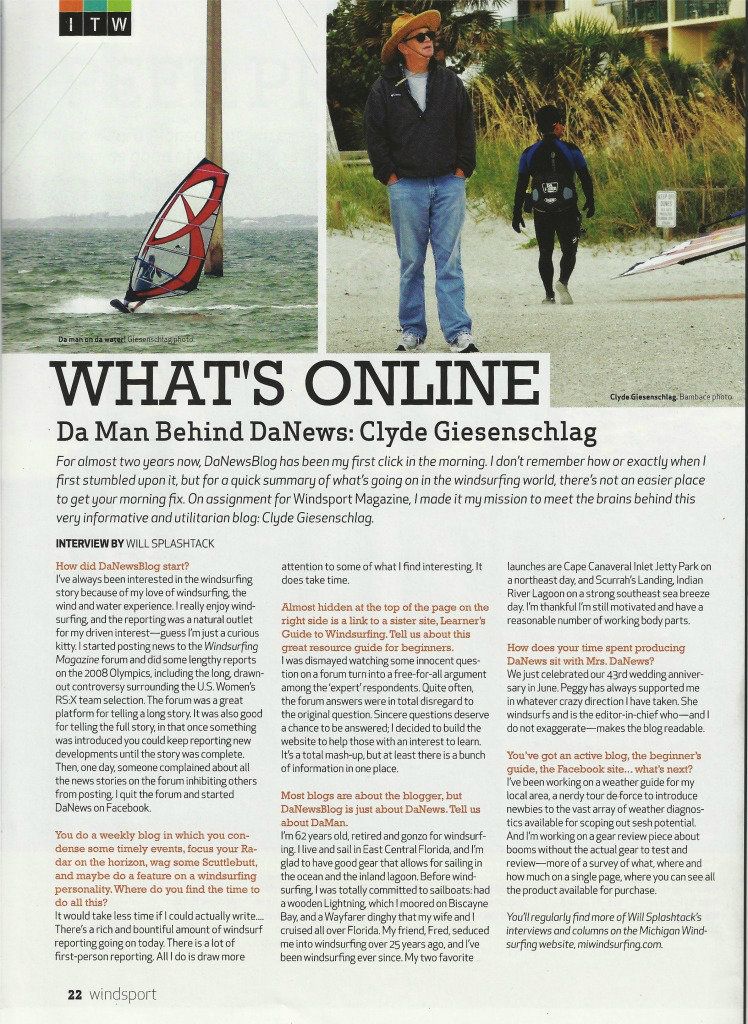 Thanks to Windsport and Mr. Splashtack for making this happen. Just zoom the page to read.


Postcript · This is the 105th post of DaNewsBlog.