Steve and Marty Gottlieb
started Sandy Point Progressive Sports 30 years ago in 1982. That year the top grossing film was E.T. the Extra-Terrestrial; Michael Jackson released the album Thriller and Robby Naish joined the Professional Boardsailors Association. Steve started Aerotech Sails in 1986 the same year he and Marty married. They are the North American distributors for
Exocet
and the Kona one design longboard (formerly owned by Exocet). They started as a small windsurfing shop and grew into a multi sport
retailer
concentrating on the gear used in water sports. Their business is located in South Daytona, Florida. I'll thank Steve now for taking the time to answer a few questions.
How does your business rank as a water sports retailer in Volusia County? Are you the largest?
Hard to say for sure. We are certainly the biggest for hard goods but on the smaller side when it comes to soft goods.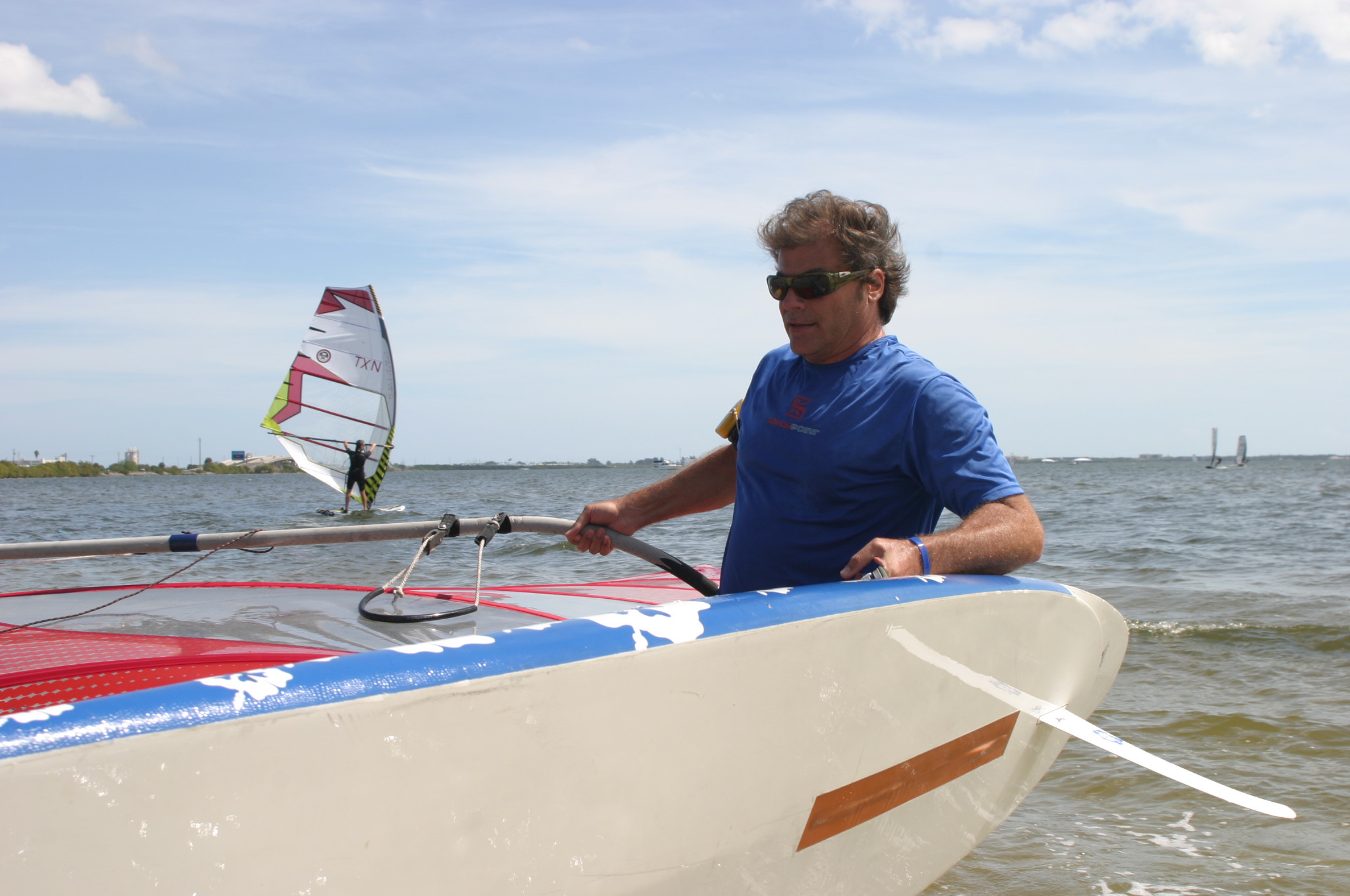 Steve - Kona Fleet - Calema Midwinters
What water sport has been the most popular in recent years?
Kayaks have been the strongest part of our retail business for the last ten years. In the last 2 years, SUP has grown the most and ranks as number 2 now.
Windsurfers can get a little pessimistic about the future of the sport. We tend to make judgements based on what happens at our local launch. As a sail maker, continental distributor and a large multiple sport retailer, you watch a bigger picture of activity. How do you see the health of windsurfing?
There is both good and bad happening in windsurfing right now.The bad is that many companies are still concentrating on the extreme side of our sport. The high wind stuff is great but the average consumer has no interest in and considers it an extreme sport. The good side is the potential that can come from SUP as this market is at least 15 times larger than windsurfing. Many of these boards can be sailed by just adding a simple rig to them like our Windsup rig.
Can you share any insight about business trends in windsurfing? Did you sell more boards 5 years ago?
The numbers for sure have dropped since 2006 more because of the economy than anything else. We saw it start to change last year and I am very optimistic about 2012.
With new sail makers entering the market every year, how is your sail brand,

Aerotech

, doing?
In the USA, it is going well but I do see more people looking for closeout and used product as disposable income is down.
The cost of boards seems to have risen in the last few years. How is the new pricing impacting sales?
Just like sails people are hesitant to buy the latest stuff unless they know it's better. You really have to make sure when a new model is coming out that it's not just a new graphic but it is a step forward.
Exocet sold their one design longboard racer, Kona One, to Joachim Larsson. How is the "new brand" doing?
This has been really good. The
Kona
is still one of the best selling boards in the country with more fleets building in many locations. The board is just a classic. In the same class as a Sunfish, Laser or Hobie 16.
Exocet is making some exciting new designs. What's got your interest?
The new D2 is a break through in the long board category. For a very expensive board it is selling well. Their
S Cross
and
Cross
series are also stand outs. Their boards offer a smoother ride than the competition and this really helps old knees and hips.
What did the closing of WindSurfing Magazine mean to you and your business? Will you spend or pocket the advertising dollars that would have gone to the WS mag?
I think it is more of a changing of the times than a reflection of our sport. The Internet is really cutting into the magazine business. We will increase our online presence with the freed up capital.
Sarah Hebert
abandoned her 2012 transatlantic windsurf challenge. Sarah explained: "This is a beautiful, hard yet magical adventure. I do not regret anything. Everything I lived through before setting off as well as the time I have spent on the ocean has been incredible. I will always cherish these moments. Once I have been able to rest, I will take time to look into what happened but my preparation, equipment and my heart were not at fault, I am sure of that. Sometimes though, you have to accept your own limits and know when your body is telling you to stop. Even though this is hard on me, I'm focusing on what's positive for now. I've learnt about myself, the ocean and being out at sea. This experience will be of great value in the future when I set off on new adventures."
After the unfortunate loss of her safety pack on the second day of the journey, she was forced to make an immediate change of plans. They all sailed directly to Sal in the Cape Verde Islands on Neptune's Car for replacement gear, essentially satellite phones. After the short layover, Sarah regained her composure with almost a solid week of progress towards Guadeloupe. But toward the second weekend the wheels started to come off. Even though she made a valiant effort, she could not overcome fatigue, blurred vision, headaches, anemia and dizziness. Her safety was at stake.
Earlier in the week the sea had been her friend allowing some great reaching days with the thrills only ocean voyagers appreciate: the little seabird that wanted to rest on her board and the small whale that exhaled spray nearby. But toward the end the wind direction changed to the east and headed her preferred course. The new wind direction brought a confused sea that didn't have time to get itself organized into one uniform swell.
The wind hammered everyday 25+ knots. On Saturday, March 3, after making a modest run of 56 miles in unrelenting conditions, she could not continue and retreated to the shelter of the boat. Unfortunately the boat could not offer much respite from the conditions all around her. And so on Sunday, after trying to restart the journey, she knew it was over... The phone conference with her doctors back ashore confirmed her anemia. There was no way to treat the condition; no way to rest. The windsurfing across the Atlantic dream was not to be this year. Sarah and the crew of Neptune's Car, now speeding across the Atlantic, are expected to arrive in Guadeloupe March 11.
Click the image to read
Windsurfer Magazine
.
Fins ·
Maui based,
Maui Ultra Fins
reported: "
After one year of testing by a lot of sailors at different places and under different conditions the revolutionary Delta Wing fin design has landed and will now be available beginning of May 2012...The development was initiated by the demand of many German, Dutch and Swedish windsurfers for shorter fins that could handle very weedy conditions...About 100 prototypes were built to find the perfect outlines and profiles. Those were thoroughly tested by about 70 amateurs and pros who provided very important feedback...Generally speaking, the main advantage of the Delta-Wing-Series is the formerly unthinkable reduction of fin length down to almost 50 % of a straight fin. As a result, windsurfing in shallow waters has become much safer...On top of this, the Delta form with its wide base and shorter length lets us use extremely thin profiles with less drag which in turn results in high speeds..." Their website will explain this new fin on the dedicated Delta Wing Fin Page; and there's help in sizing the Delta on the Fin Selector Page.
Quebec based,
Makani Fin Company
is another fin business in North America. Their righteous stable of accessible North American team riders underscore their locally focused footprint. If you sail Maui, Baja, the Gorge, San Francisco, Long Island or Hatteras you've got a good chance to meet Team Makani: Wyatt Miller, Phil Soltysiak, Tyson Poor, Casey Hauser, Ingrid Larouche, Jon Sassone and Mike Burns. Makani contributes to the environment we play in. For every fin sold, $2 is donated to the Surfrider Foundation. Makani Fins is all in this April on Hatteras with a helping hand in the OBX clinics (poster, right),
OBX Challenge
and the
OBX Windfest
Rest In Peace Vincent Mellouet
·
The talented French wave rider tragically died March 5 in Brittany doing what he loved, wave sailing. Vincent was taking a good bye session before leaving to work in Fuerteventura. There is a sadly haunting last post of his future plans on his blog,

Low pressure

. The exact cause of death is not known. He was born April 20, 1980. His favorite saying, "life is great." The video below was released about a month before his death.
Postscript ·
Maui Sails has released an information page for the new 4 batten
Mutant
. Jeff Henderson's got another Hot Sails Maui 4 batten sail in the works, the
Freestyle Pro
.